In a climate where everyone must do more with less, many companies are looking to outside suppliers to help deliver their innovation-based growth.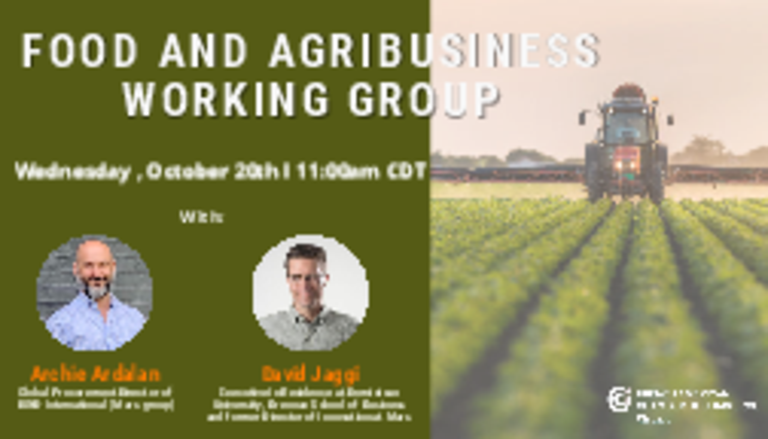 In a climate where almost everyone is being asked to do more with less--fewer people, less money, fewer resources, less time--many companies must rely on outside suppliers to help deliver their innovation-based growth ambitions.
David and Archie have spent a significant amount of time together in the CPG innovation trenches and will be discussing the benefits and challenges of leveraging external suppliers for innovation acceleration.
Speakers
David Jaggi
David is an experienced R&D and innovation leader with a passion for building and leading exceptional teams that deliver business growth through the identification and delivery of exceptional customer experiences.
He is a creative thinker and thought leader with the unique ability to see underlying concepts and patterns in complex situations and clearly communicate them to others. Passionate about creating and delivering differentiated customer experiences that solve human problems, he is a collaborative partner with a proven ability to bring ideas from concept to market using a holistic design approach that is inspired by consumers, driven by business needs, and delivers sustainable growth. His creativity is balanced by candid pragmatism and strong technical skills.
Currently David is helping startups, providing leadership and guidance in the areas of business strategy, innovation and product development. He is also an Executive in Residence at Dominican University's Brennan School of Business helping develop the next generation of business leaders.
Archie Ardalan
Archie is an experienced, multilingual, and multicultural Global Procurement & Supply Strategy Leader with a strong bias toward action and solution-orientation. He is passionate about relationship-building and empowering the members of his team to make decisions and meet goals. Archie develops and champions strategies that align business objectives and stakeholder needs while pushing the boundaries of what is possible through encouraging innovative ways of thinking and doing.
After two decades of cross-functional leadership experiences across the food, beverage, and confections industries, Archie possesses a highly collaborative spirit and appreciates the power of diversity and inclusion to fuel creativity and unleash unrealized potential within an organization.
Today, he serves as the Global Procurement Director for KIND International, a leading, mission-driven brand providing healthier snacks to consumers around the world. In this role, he is responsible for sourcing all ingredients, packaging, contract manufacturing and other services for KIND's portfolio of products, as well as leading the efforts of technical community and internal Mars resources to enable the exponential growth of the KIND brand into new markets and new product categories.