Join us for an interactive webinar on PPP Forgiveness, Illinois Reopening Challenges and Efficiently Dealing with Customs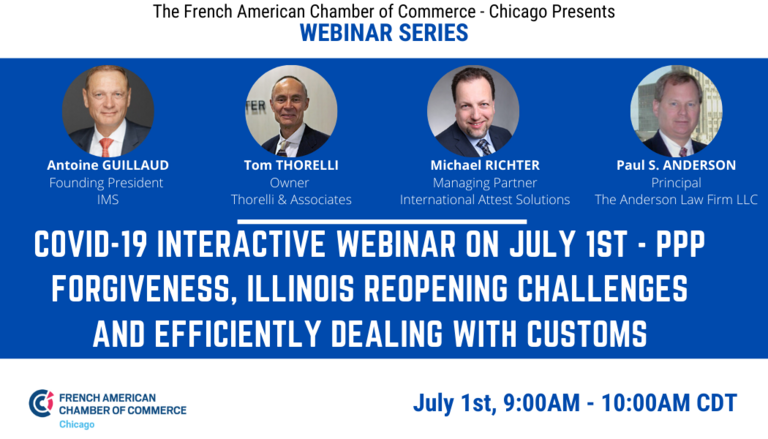 COVID-19 Interactive Webinar on July 1st - PPP Forgiveness, Illinois Reopening Challenges and Efficiently Dealing with Customs
FREE FOR FACC MEMBERS. $10 for non-Members
9:00 - 10:00 am CDT on Wednesday, July 1st
All webinars are in English.
International Management Solutions, Thorelli & Associates, International Attest Solutions, LLC, and The Anderson Law Firm, LLC are organizing an interactive webinar to help businesses assess the challenges of reopening worksites in Illinois, as well as the impact of Coronavirus on their US operations or their plans for US expansion. This webinar is also an opportunity to get information on the PPP loan forgiveness. Antoine Guillaud, President at IMS, Tom Thorelli, Partner/Owner, Thorelli & Associates; Michael Richter, Managing Director, International Attest Solutions LLC; and Paul S. Anderson, Principal, The Anderson Law Firm, LLC, will present.
Topics for discussion will include:
PPP loan forgiveness
The conditions of the Paycheck Protection Program (PPP) and the criteria to be met for the loans to be forgiven.
U.S. reopening legal issues
Key employment law issues that employers should be aware of as they move forward with reopening.
Dealing efficiently with Customs
Paul S. Anderson, Principal at the Anderson Law Firm will specifically address the questions:
Source components from China but manufacturer in Europe. Are my finished products subject to section 301 duties on products from China?
If so, can I obtain an exclusion or take advantage of an existing exclusion?
How does Customs determine country of origin in such cases? Does Customs issue rulings on the issue?
What is the latest on the Airbus retaliatory duties on products from France? Other EU countries?
Why do we charge a small fee for our online programs?

The FACC-Chicago is an independent, 501c6 nonprofit organization that relies on revenue from events, membership and business support services. For 40 years, we have been the main professional forum for the local French-American business community. We support local economic development by promoting our region as a destination for French businesses and facilitate cross-cultural communication, collaboration and partnerships.

In these difficult times and beyond, we want to be a valuable resource to our community and continue to offer high-quality, timely and relevant content.

Your support helps us accomplish our mission. Thank you!
Not yet a FACC-Chicago Member? Discover the benefits today!
REGISTER NOW FOR OUR VIRTUAL GALA JULY 22ND (it's free, but registration is required)!