Into the brain: Conversations about neurological health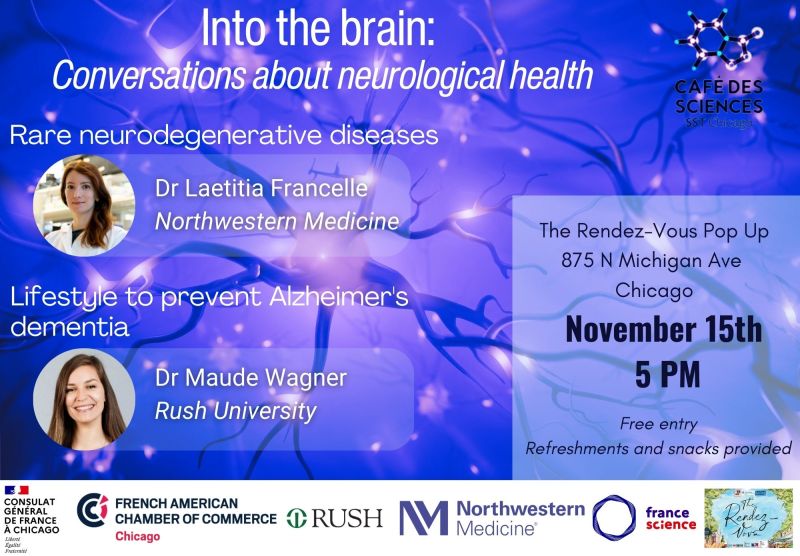 Neurodegenerative diseases present complex challenges that affect individuals over time. During these talks, we break down some of these complex conditions and dive into various aspects, from prevention, to the search for new potential therapeutic targets. Join us at the Rendez-Vous Pop Up on the 1st floor of the 875 N Michigan, to hear from our two experts from Northwestern Medicine and Rush University. The talks will be followed by a light cocktail, during which you will be able to engage with our speakers to continue the discussion!
Program
5:00 pm - Opening remarks
5:10 pm - Dr Laetitia Francelle: "Rare Neurodegenerative Diseases"
5:30 pm - Q&A
5:40 pm - Dr Maude Wagner: "Lifestyle and cardiometabolic health to prevent Alzheimer's dementia"
6:00 pm - Q&A
6:10 pm - Reception
Speakers & Talks
Dr Laetitia Francelle - Northwestern Medicine: "Rare Neurodegenerative Diseases"
Neurodegenerative diseases are progressive and incurable conditions where nerve cells (neurons) in the brain and spinal cord gradually and irreversibly deteriorate over time, leading to a wide range of symptoms. The most well-known is Alzheimer's disease, but there are many others, like Parkinson's and Huntington's, as well as some rare ones, for which no cure exists. Even though most of these diseases affect adults, some can affect very young people, like Batten disease. This disorder is caused by a change in a gene. Innovative, patient-specific exist treatments for this disease, but they may not be accessible to all. Neuroscientist Dr. Laetitia Francelle studies these brain disorders to find out their commonalities and differences. This research work is crucial to better understand these diseases and find potential therapeutic candidates.
Dr. Laetitia Francelle is currently a post-doctoral researcher in the Neurology Department at Northwestern University. She graduated from Paris-Saclay University in France, in Neuroscience and Health Medicine. As a doctorate and post-doctoral researcher, she studied the pathogenesis of several neurodegenerative diseases, such as Huntington's and Parkinson's diseases, and has a particular interest in discovering and testing novel therapeutic targets. Using her expertise, she is now focusing her work on two rare neurodegenerative diseases, Gaucher and Batten diseases, using cellular and mouse models.
Dr Maude Wagner - Rush University: "Lifestyle and cardiometabolic health to prevent Alzheimer's dementia"
Worldwide, over 55 million older people are believed to be living with Alzheimer's dementia (AD). In a context where curative treatments are only available for a tiny fraction of patients in the U.S., prevention of this neurodegenerative disease seems to be one of the most promising avenues for tackling the burden of AD. In this talk, Dr. Wagner will discuss how intervention on several modifiable risk factors, including cardiometabolic health and lifestyle health behaviors (nutrition, physical activity, cognitive activity), can help prevent, or at least delay, the onset of AD. In addition, Dr. Wagner will discuss how these modifiable factors can promote cognitive resilience to the neuropathology of AD, reflecting the ability of the human brain to tolerate a wide range of disease-related brain lesions without clinically exhibiting cognitive impairment.
Dr Maude Wagner is Assistant Professor of neurological sciences and statistician with Rush Alzheimer's Disease Center in Chicago. She received her PhD in Biostatistics from the Bordeaux Population Health Inserm Research Center and Bordeaux University, France (2016-2019). Her research focuses on identifying causal and modifiable lifestyle-related risk factors across the lifespan for dementia, cognitive decline and cognitive reserve. She works on several international prospective cohorts and has a broad interest in longitudinal modeling, latent process mixed models, non-linear mixed models, and R programming with applications notably in brain aging and Alzheimer's disease and related dementia (more information here: maudewagner.onrender.com).