Join 18 National FACC Chapters for a two-day digital business summit featuring 10 sessions, 40+ speakers, and unlimited networking opportunities.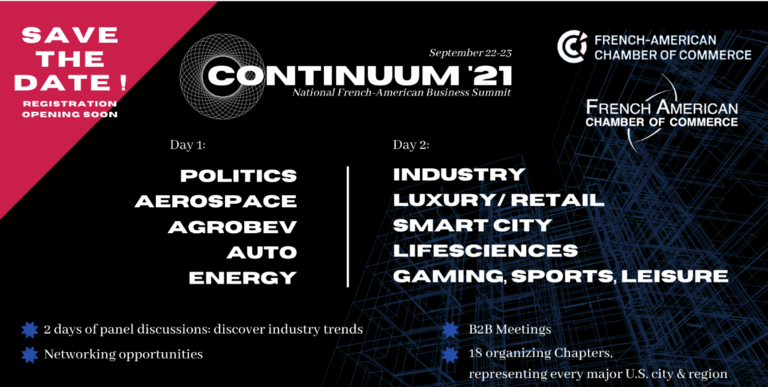 Welcome to #Continuum21: The inaugural French-American Chamber of Commerce business summit. On September 22 & 23, join 18 National FACC Chapters for a hallmark digital event featuring 10 panel discussions, 40+ premier speakers, and unlimited group and 1-1 networking opportunities.
Panel discussions will convene prominent thought leaders from French and American companies to discuss transatlantic relations and specific U.S. market opportunities by sector.
From energy to agro-bev, politics, retail, aerospace and beyond, Continuum '21 is the place for transatlantic professionals to gather for a complete U.S. market overview. Brought to you by the 18 regional chapters of the French-American Chamber of Commerce, this must-attend digital summit is your chance to get a pulse on the market, the opportunities for new business, and future trends.
Featuring 10 sector-specific panel discussions, attendees will hear from a range of executives representing multi-nationals, startups and the public sector.