Members
#MeetOurMembers - Fluid Air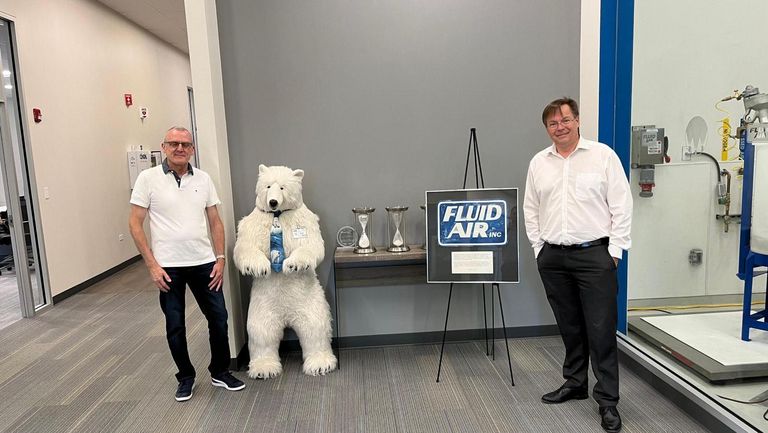 the FACC embarked on an exciting visit to the manufacturing facility of Fluid Air, located in Naperville
Amazing Visit:
In a fantastic display of collaboration between France and the United States, the FACC recently had an exciting visit to the impressive manufacturing facility of Fluid Air in Naperville. This visit, kindly hosted by Michel Thenin, President of Fluid Air and a valued FACC board member, aimed to strengthen business ties!
The visit provided an excellent platform to exchange ideas and best practices but also discussions around the latest trends in the pharmaceutical sector and potential collaboration opportunities.
The Manufacture:
Fluid Air's cutting-edge manufacturing facility stands as a hub of innovation in the pharmaceutical processing sector, showcasing advanced techniques and a dedicated team committed to excellence. From sustainable practices to modern manufacturing methods, Fluid Air's vision aligns with global demands for efficiency and environmental consciousness.
Michel Tenin, FACC Board Member:
As a prominent FACC board member, he has played a pivotal role in promoting stronger ties between French and American businesses. Michel's dedication to fostering transatlantic partnerships and his expertise in the pharmaceutical industry earned appreciation from the visiting delegation.
Strengthening Transatlantic Connections:
The collaboration between FACC and Fluid Air exemplifies the power of connecting businesses internationally. Michel Thenin's FACC membership showcase the potential of cross-cultural collaboration and the strength of transatlantic partnerships.
By fostering stronger ties between French and American business communities, this endeavor promises to open new doors of growth and innovation in the pharmaceutical processing industry.